To do
[progressally_objectives]
[progressally_progress_bar]
For an afternoon wedding with a decent sized bridal party, hair and makeup will begin in the morning. The bridal party could be going to a salon, or they could have it all done at a house/hotel room. While the bridal party is getting ready, you will be helping the planner set up the venue with the bride's décor. There will be varying factors with this as well, though. The contracted time you have at the venue will determine when your wedding work day will begin. The earlier you can start, the better!
Setting Up the Venues
Setup always takes longer than you think it will. Set out all personal items as things move along. Keep in mind that there might be a situation where the planner might have to leave you alone to set up while they go to the ceremony site. If this must happen, make sure they give you the inventory list with a full description of the tasks that need be completed.
Your company website is one of the first impressions you'll make on a potential client. This is why having a visually appealing website should be a priority. There are two schools of thought when it comes to websites. 1) Spend a lot on a super fancy website so your brand and type of client is represented well out the gate. Or 2) build your website as your business makes more money. There is nothing wrong with either one of these ideas. It really boils down to what type of capital you have to invest. Just know that you can make a super beautiful website with very little money. What every great wedding planner website has is beautiful pictures, great copy, and simple navigation.
First, Research
Before you go all in on a website, I want you to do a little research first. Look at other wedding planners' websites in your local area and nationwide. Pick out a few details that you like about their site. Understand what type of photos you enjoy looking at. Pay attention to the copy on their site. Does it resonate with you? Write down what you don't like as well. It's a big world out there with lots of other wedding planners. Look at planners in big cities and take notes. Ask yourself these questions:
1) Who is your ideal client?
2) Do you see a common theme?
3) Do your favorite sites match your brand?
Website Platforms
You won't have any problems finding a website platform for your business. The problem lies in which platform to invest in.
Wix
I like Wix because no coding is needed. If you have limited website-building knowledge, this is a wonderful option. Oh, and it's FREE! You can't beat free. They have pretty templates that you can somewhat customize. It's a drag-and-drop type of website, so easy peasy. You will have to pay to get rid of the Wix part in the URL though. But design the website first and then pay when you're ready. Be aware that the SEO on Wix is not as good as other platforms.
WordPress
Once I got a little more experience under my belt and started to make more money, I wanted my website to match my brand. So I hired a web designer and she made me my first WordPress site. I love WordPress because you are able to add things to your site through plugins. Some coding can be required to get a plugin to work right, but I will either hire someone to do it or figure it out myself. Setting up the site itself can be a little trying, so I would recommend hiring someone for that. WordPress has a million themes, and most of them can be customized to your liking. Once you get the hang of it, though, you'll love how much you can do with it. Check out Restored 316 for some pretty, feminine WordPress themes. She can also set up the website for you. This is a really nice feature since a lot of templates require you to figure it out yourself.
Squarespace
Squarespace is another drag and drop option. It's easy to make small changes and it integrates easily with many services (like email, payments, and bookings). 
Showit
Show it is drag and drop website platform and you'll be happy to hear that no coding at all except for inputting some widgets. You can create designs that don't look cookie cutter that will help your business stand out. They are also known for having great support that is included with your subscription. Anytime you have issues with your site, someone can help. They use WordPress for blogging so you get the SEO awesomeness of that but the ease of drag and drop. You can design the mobile side independently of the desktop side.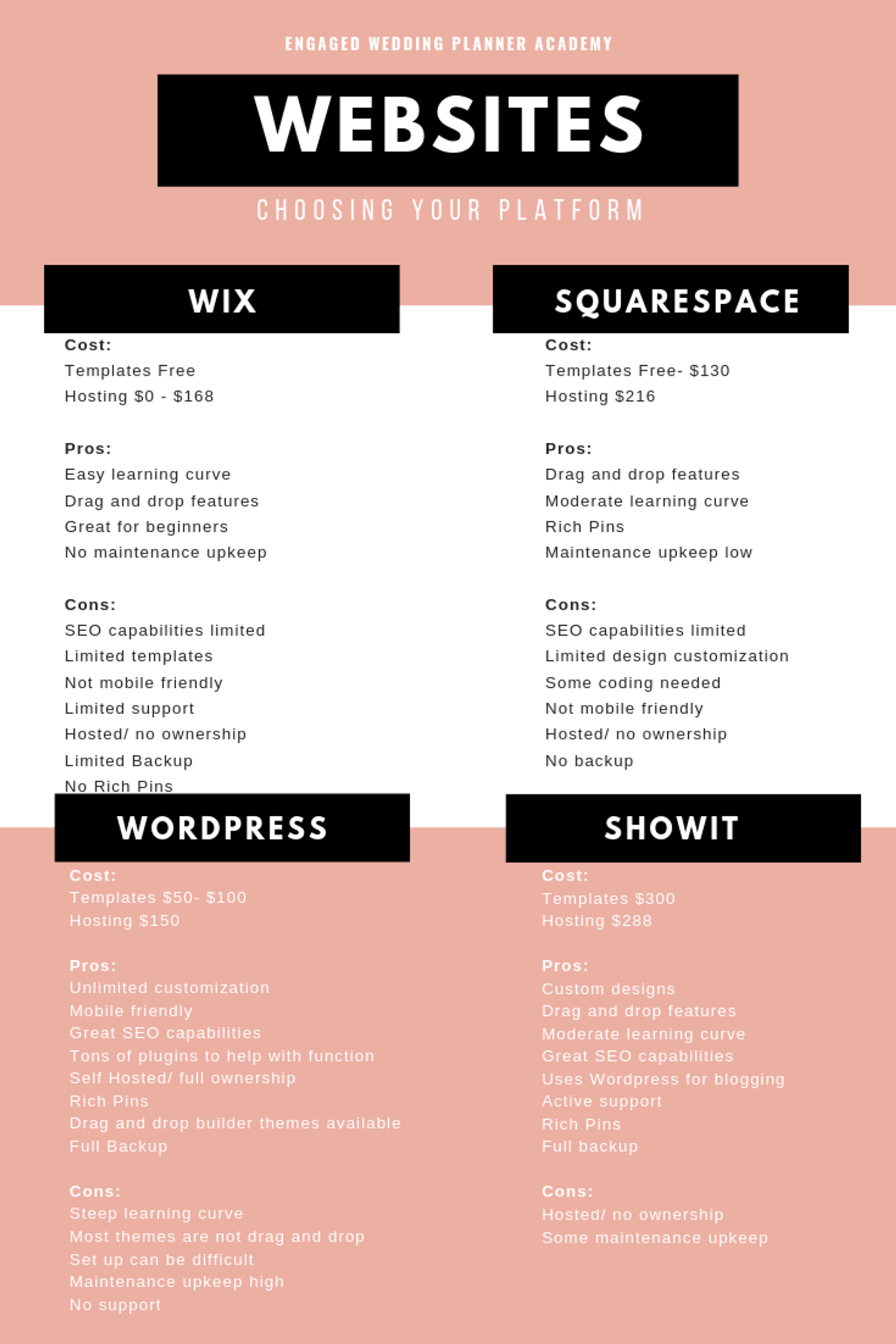 Website Fundamentals
If you're just getting started with creating your first business website, then it's important to understand a few website fundamentals. It can be a bit overwhelming as you start to dig in, but don't fret! With a little bit of practice, you'll get frequent in web speak in no time.
SEO/Keywords
For your website to gain organic traffic, you need to be familiar with SEO (search engine optimization) and keywords. Some platforms are better and easier for this purpose than others. If you're in a very saturated wedding planner market, you'll want to take advantage of tools in your website platform (like plugins if you're on WordPress). Keywords are the words you want Google to find you by. You will want to be mindful when using your keywords. Don't overdo it—Google will penalize you if you do and make your site harder for people to find.
Website Content
What you say on your website is actually very important. People still read! When writing your copy, always be thinking about your ideal client and what would attract them to your company.
Photos
I cannot stress enough just how important pretty, romantic photos are to your wedding planning website. If you have a limited photo selection for your site, please consider stock photography. Do not steal them from the internet—this could be a very costly mistake if you take a copyrighted picture. There are trolls on the internet just waiting for someone to do this so they can sue them for thousands—I wish I were joking.
Google Analytics
Don't skip this step! Google analytics has a treasure trove of valuable website insights. It will show you which social media outlets are referring to your website, what time of day is the most active, and what your most popular page is. Be sure you learn how to connect it with your website.
Hosting
Depending on which website-building platform you use, you may need to buy hosting. You will most likely have to renew it every year. I would recommend staying away from Bluehost (bad experience), but other companies like SiteGround and HostGator are good companies to look into.
Domain
For now, if you don't want to spend any money on a website, you can use Wix—so no need to worry about buying a domain name. However, if you do have the funds, I recommend buying one now versus later. Sometimes, shady people will scour the internet and steal potential domain names—so when you're finally ready to buy one, they want you to buy it from them for a ridiculous amount of money. Also, ask yourself how you want clients to find you on the web. By looking up a keyword like "wedding planning"? If so, you might want to have that somewhere in your domain title. Check out GoDaddy to secure a domain name. Use these tips when creating a domain name:
Make it easy to type
Keep it short
Use keywords
Target your area
Avoid numbers and hyphens
Website Terminology
Website jargon is not so bad once you understand the basics. Here is a intro into website terminology.
Back-end- The back-end of a website is the part hidden from view of a website visitor. 
Theme- A collection of files that work together to produce the look/style and some functionality of a website.
Hero– A common term used to refer to the main image on a homepage.
Favicon- A small image that is displayed in either the title bar or tab of the browser and also appears with bookmarks.
Main Navigation/Menu- The navigational elements that appear on a website.
Drop-down Menu- A drop-down menu is a navigational menu that has sub-menus or categories below it.
Title attribute- Text used to describe the web page in the top of the browser window.
Sidebar– A repeating section on the side of certain web page within a website- usually a blog. Sidebars display information such a bio, categories, social media links, opt-ins and special information for readers.
Gravatar- A Gravatar is an image that follows you from site to site appearing beside your name when you do things like comment or post on a blog. 
HTTPS- In 2017, Google announced it would mark any website not using HTTPS as "insecure" in the browser address bar. In order to make a website secure with HTTPS, it must apply an SSL certificate.
Widget- Widgets are various repeatable components that can be added to a site without having to write the code or enter it on multiple pages.
Plugin- A plugin is a bit of third party code that extends the capabilities of a website.
Opt-In- Used in email marketing, an Opt-in means that someone has specifically requested to receive emails about a particular topic from a particular entity.
Call to action- A clear place on your website for users to take an action step. Links to other pages on your website, buttons, contact forms, and social icons are common CTAs 
When you finally make the decision to become a wedding planner, more than likely you are also making the decision to become a business owner. So not only do you have to learn the ropes of coordinating a wedding, you also have to learn the ins and outs of how to run a business. Dear goodness, that's a big to-do list! And one of the first things you'll probably do is create a website. When taking this initial step, it's easy to get lost in the details. Sometimes you focus so much on the design that you forget about its function.
Your Home Page
Having a well-designed home page is critical. But I don't mean just in its aesthetic. Your home page should sum up your site and have a call to action. For example, I like to see a phone number, email address, and where you are located on the first page (usually at the bottom). There are a million wedding planning businesses, and a lot of them have similar-sounding names. Don't confuse your potential clients; make sure they know they are looking at the right planner's site. I also like to see a call to action like "Book Now," "Contact Me," or "Learn More." This is a great way to get your client to subconsciously visit your contact page, opening the gates for communication.
Types of Pages
When I audit a website I make sure they include these types of pages: home, about, services, testimonials, gallery/portfolio, contact, and a blog. The pages that are most often left out are the testimonial, gallery, and blog pages. If you're just starting out, it's understandable why you may not have these pages yet; however, I recommend adding them as soon as possible. I'm an avid blogger and truly believe that blogging can help you reach your ideal clients.
Inquiry Form
Most likely, your contact page will have an inquiry form. If not, you need one, like, yesterday. This is one of the most important pages on your website, and it is often overlooked. If you ask the right questions up front, you can quickly identify if someone is a good fit to work with you. Your inquiry form is the gateway to connecting with your lead. Whether you first make contact with a bride via phone or email, having some key points to connect on is essential. For example, depending on who your ideal client is, ask about their hobbies and interests, their favorite flower, or their preferred wedding dress style. Ask about their venue and why they chose it. Your inquiry form is the perfect opportunity to really make magic happen.
Social Media Links
Be sure your website includes links to all of your social media accounts, not just your favorite one to use. With the endless options for connecting with a bride, nothing should be ruled out. Maybe a bride spends most of her time on Facebook, or maybe she just checks the reviews of companies using Facebook—who knows. But I can tell you that there are tons and tons of very similar-sounding wedding planning companies out there, and if you don't type it exactly right into Google, you might not be found—and the lead is gone forever. Make it easy for them—add your social media links.
Starting Range
Please be sure to give a starting range on your services. Let your lead know if you're even in their ballpark budget-wise. I would never want you to waste your time and a bride's time trying to figure out if they can even afford your service or not. You could spend hours talking with them, creating a vision, only to hear crickets once you send the quote. Make it easy for your potential clients by posting your starting range.
Overall Design
My last piece of advice is to make sure that your website design is cohesive and represents your brand well. Depending on where you are in your business, I recommend Wix for those going the DIY route and Restored 316 for those wanting an affordable WordPress option. Also, check out our stock photography if you need pictures for your website until you have some of your own.
Photos are a BIG deal in the wedding world. I'm sure you have already realized this. Nothing says how awesome you are and "pick me, pick me!" like full-on, drop-dead gorgeous photographs. One picture speaks a thousand words. Right now, you might be in the middle of creating an amazing website, but you have no photo evidence to show your prospects. So what do you do when you're in a picture pickle?
What Not To Do First
First, I'll tell you what not to do. Don't steal pictures from Pinterest or Google. Most of the images that have caught your eye on Pinterest have been in circulation for years. I can tell almost instantly if a picture has been stolen from Pinterest. Also, there are horrible people out there who make money on copyrighted pictures. They lay a trap with a pretty picture on Google, you "save image as" and place it on your site, they do a Google image search, and you end up getting sued for $7,000. I'm not joking.
Your Own Wedding
Do you have any pictures of your own wedding? You might not want to use your face, but maybe some pretty detail shots like your rings, flowers, or décor. Using your own wedding for pictures is a great idea. In fact, this is what I did when I designed my very first website. Keep in mind, though, that if you hired someone to help with day-of, you might want to make sure they know you're going to use the pictures. It will be confusing to local brides as to who did the actual wedding.
Buying Stock Photos
I see nothing wrong with buying stock photos, especially if you're trying to build a certain type of brand. I believe you'll attract the type of bride you're looking for with the right photographs. If you're thinking of going in this direction, you have to check out our stock photo selection.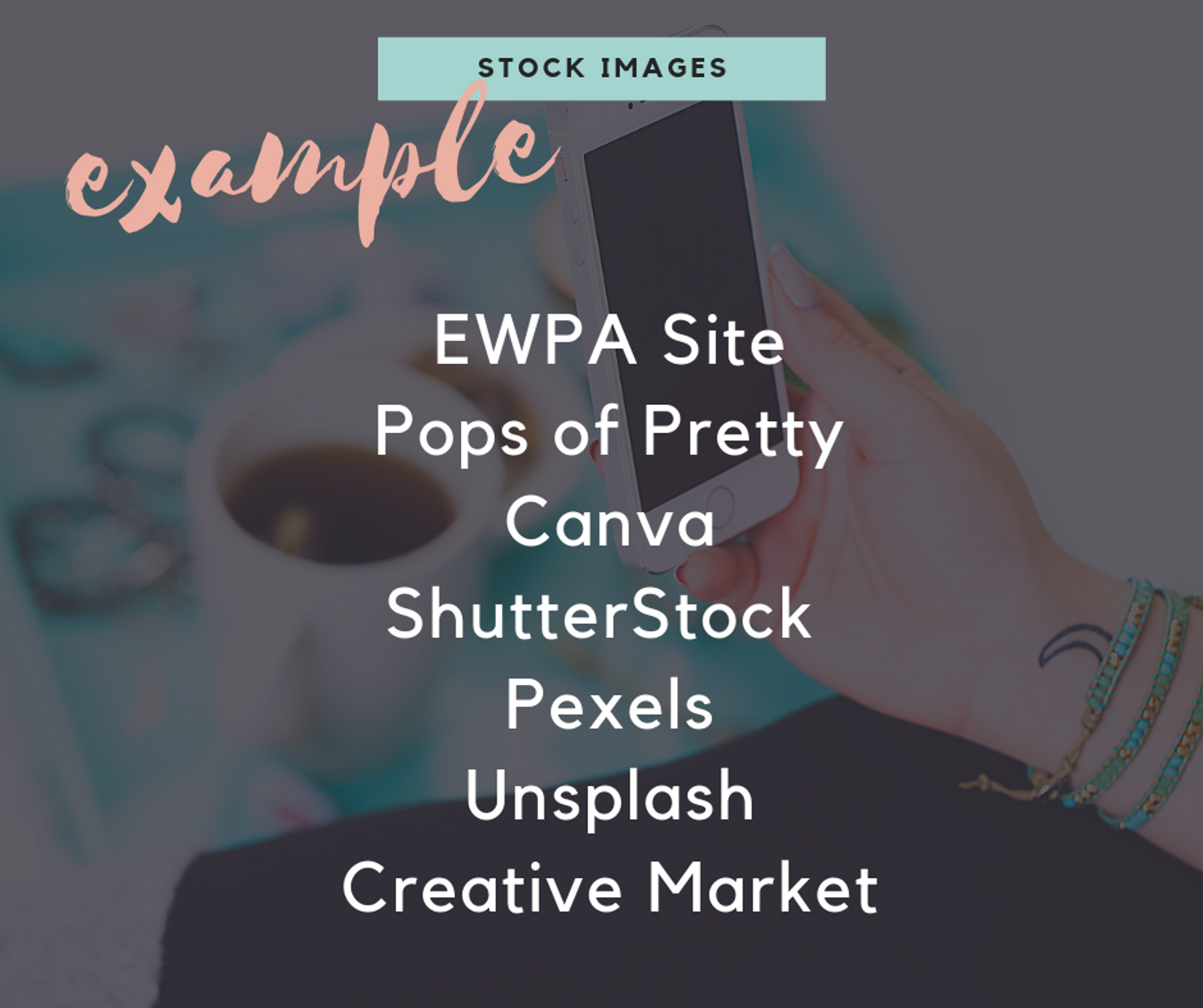 Using a Friend's Wedding
If you have a really good friend who recently got married, you could ask her if you can borrow some of her pictures until you get your own. Unless you helped said friend with her wedding, then by all means, use this wedding. If you didn't help, then this is my least favorite option, but it will work in a pinch.
Hire a Student Photographer
Another option, hire a student photographer or someone just getting into the industry to take some branded photos for you. Or if they've done a few weddings already, ask if you can buy a few of there photos for your website.
Do a Styled Shoot
Putting together a styled shoot is a great way to get branded photos, meet vendors and work on your SEO. There's a lot of planning that goes into a shoot and it can be a little overwhelming if you're just getting started. If you feel this way but want to give it a try, check out our Styled Shoot Workbook. It will give you step by step directions, vendor email templates, a shot list and a sample timeline.
Your content goes here. Edit or remove this text inline or in the module Content settings. You can also style every aspect of this content in the module Design settings and even apply custom CSS to this text in the module Advanced settings.