Module 3: Your Company Brand
To do
[progressally_objectives]
[progressally_progress_bar]
Your branding is directly tied to your ideal client, your marketing efforts, your business goals—it is the pillar of everything you touch. You must have a very clear idea of your brand. The truth is, if your plan is to just toss things against a wall, hoping they will stick, you will not survive in this business. I hope that sounded really dramatic—because it's that dramatic—succeed or fail by the hand of your brand.
You can easily read a million articles on how to brand your wedding business. And some of those articles are really informative, so please do read them to expand your knowledge. But in this lesson, I'm just going to give you the down and dirty of it all. Some of you put tons and tons of time into it and some of you only set aside a few minutes. 97% of the time my motto is "Done Is Better Than Perfect"; branding, however, is the exception to the rule. The closer to perfect you are in this area, the more efficient your decision-making will be. Branding is the foundation for all that you build upon in regards to your wedding planning business.
Ideal Client and Branding
You ideal client goes hand in hand with your branding. Since you're creating a brand to naturally attract a certain type of client, it only makes sense that you start defining who your ideal client is. By defining who this person is and targeting them specifically, you can begin to attract them in every way. If your ideal client like blue, would you use a color brand color? No, you wouldn't. Knowing your target market is the foundation to all aspects of your branding. See chart below. You will see your ideal client in both your external branding as well as your internal branding.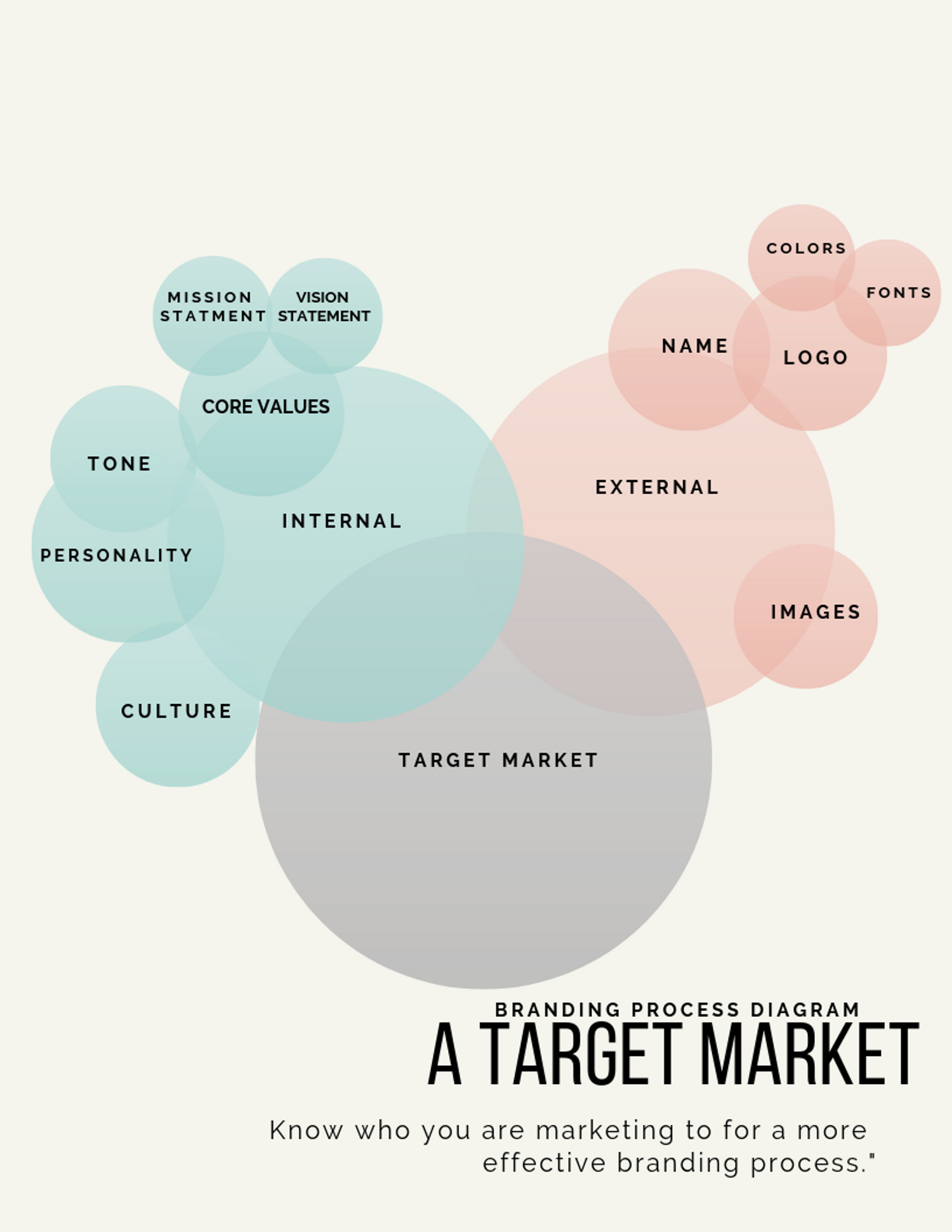 (from the DIY Branding Workbook)
Client Avatar
An avatar is a fictitious character that represents your ideal customer. If you know who they are, it will be easier to find them, understand them and serve them. Which in turn helps you create a stronger relationship with them and turns them into an unsolicited brand ambassador.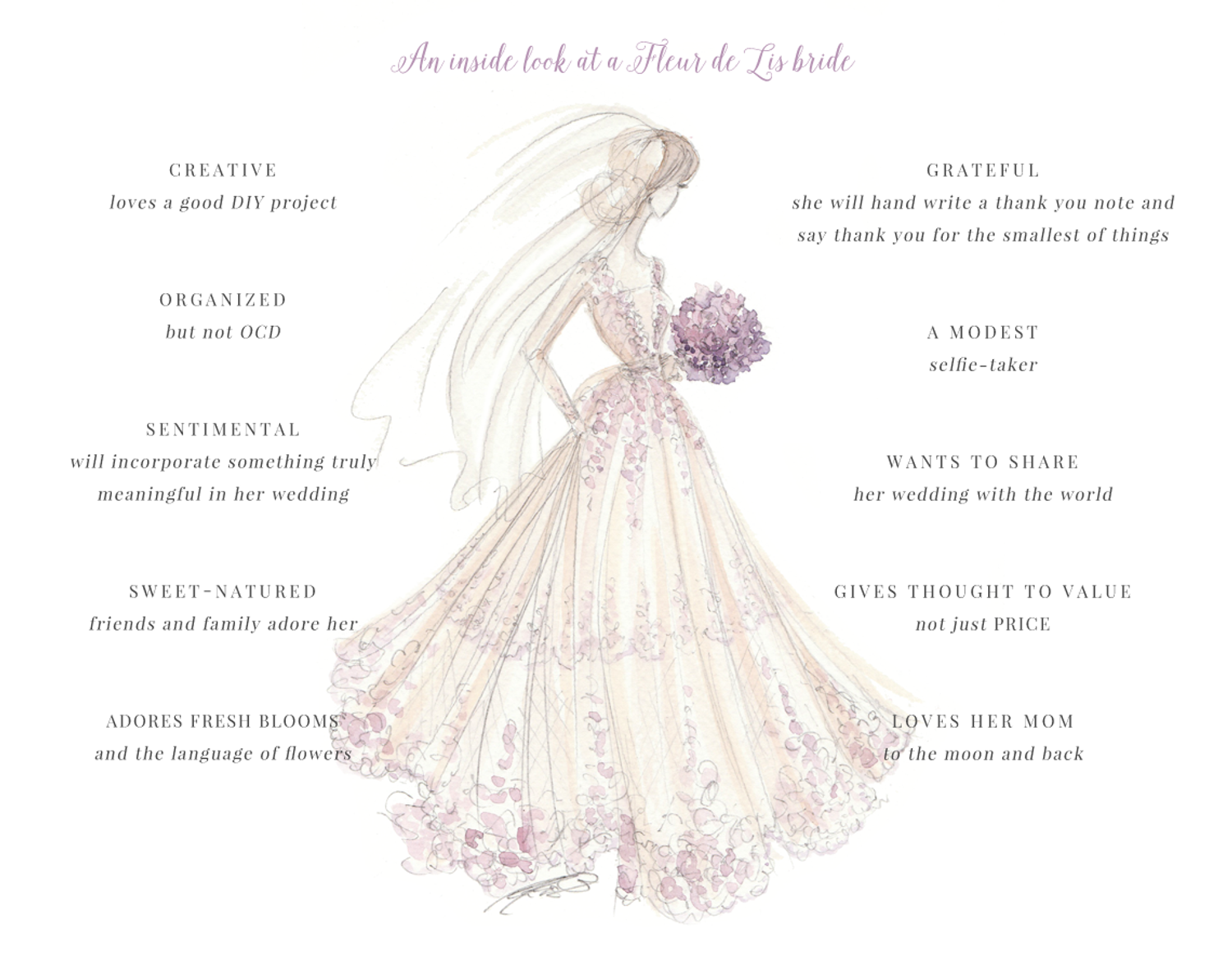 Who Is Your Ideal Client?
This is the time to really analyze who your ideal client is. Does she like barn weddings, outdoor weddings, ballroom weddings, or small weddings? You don't want to pigeonhole your preferred client, but want to know who you should be marketing to. Do they like coffee or wine? Poodles or Yorkies. Knowing these things will help you with deciding on type of content to provide on your website or social media. Go ahead and download our Brand Identity avatar worksheet to get a better idea of who your ideal client is. Knowing this will help make your future business decision-making so much easier.
Research Your Ideal Client
Now it's time to do some research on that ideal client. This work will pay off in dividends. Where are they hanging out on social media? Where does their mom hang out (if they are younger)? What type of buying obstacles could this client give you? Really dig deep and think of ways you could make this client yours.
Mix of You and Your Ideal Client
Now for the fun part—putting it all together based on a mix of who your ideal client is and who you are. You should never try to be someone you're not. The authentic, real you is the only way to serve your clients, so be sure that is represented in your brand as well. Know your voice/tone since that will be just as much a part of your brand as your logo, name, and imagery.
This is probably one of the best parts of starting a wedding planning business—branding! It's where your creativity comes to life. Where your dreams get shaped into the company you have envisioned for yourself. However, there are lots of factors that go into your brand. In this lesson we will cover this crucial business step; however, please note that "branding" is a vast topic and it would do you good to research the subject more in depth. Go to our Branding Pinterest Board to get a better idea of what is needed.
The Brand
A lot of new business owners assume that "brand" means logo when, in fact, it means something so much more. A "brand" is the overall impression or feeling you get when looking a company. Branding is the company color, font, imagery, personality, and voice behind your company. Don't confuse your clients with an inconsistent brand.
Be Consistent
You want your brand to have a consistent visual connection with your audience. This means you want everything to be "matchy matchy" throughout your website, business cards, social media, and client experience. You can achieve this consistency by using the same fonts, colors, and voice throughout your content.
Targeted Message
You need to make sure you know your who audience is. I hope you discovered this when you created your Ideal Client Avatar. Knowing your ideal client is the foundation for any successful marketing campaign.
External Branding
Your external branding is all the visual things your client sees. This is your fonts, logos, colors and images. This is also known as your Brand Visual Identity. Visuals can give people a certain impression of your business so make sure your linking this process to your client avatar.
Fonts
I know this might sound a little crazy, but different styles of fonts can give off different meanings. Have you ever notice this? There's a whole subculture of font enthusiast out there who will give you advice on best practices. My rule general rule, don't pick more then 2-3 fonts and once picked, stick with them. This will be your visual design of your written word.
Color Palette
We have all heard the studies of how color can have an emotional effect on people. So, it shouldn't be a surprise to learn that on an emotional level, color can affect how clients feel when they look at your brand. You will want to use somewhere between 3-5 colors. It is also helpful to nail down all your Hex colors when choosing your colors . A hex color code is a specific assigned color value that your design software will recognize.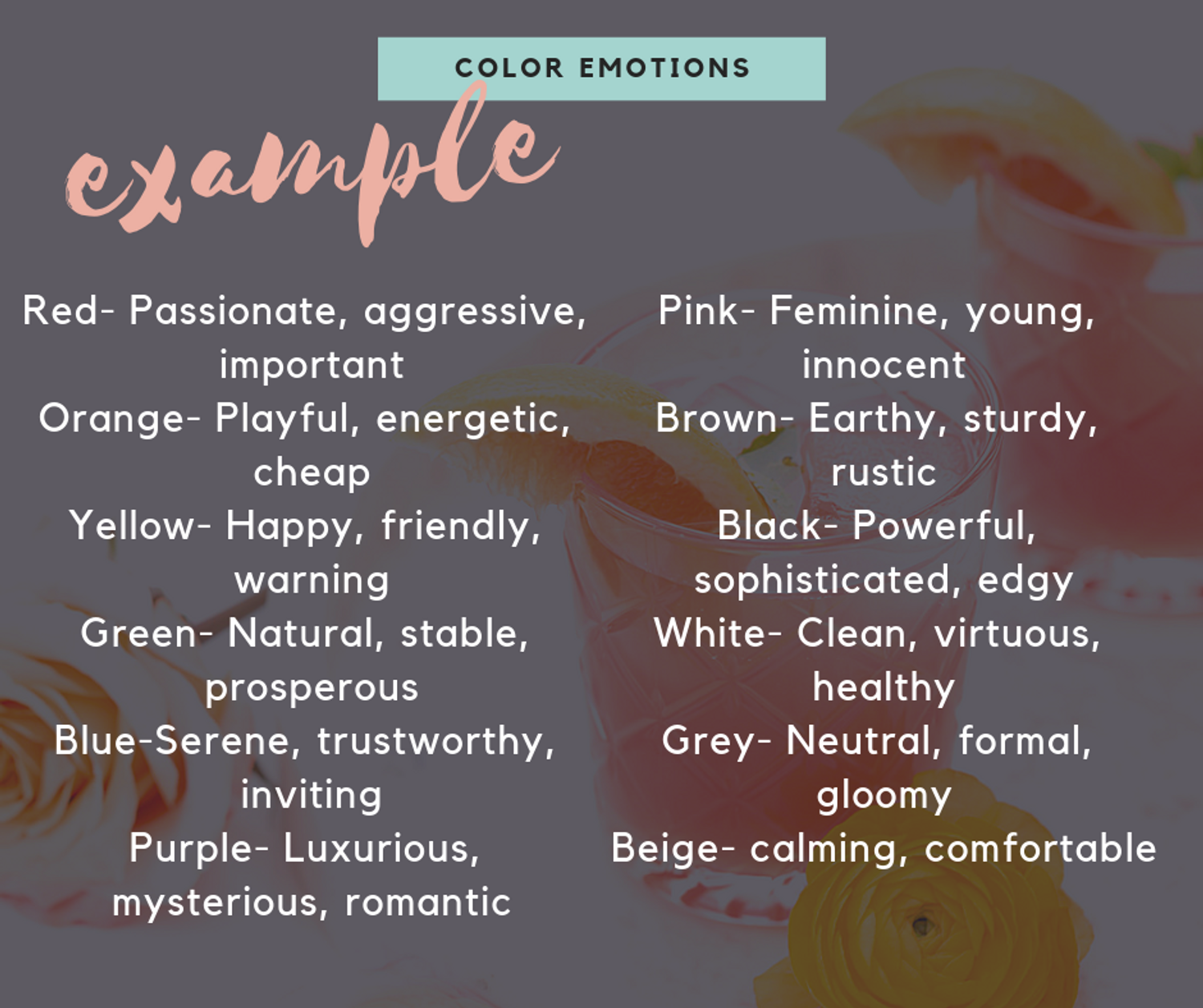 Pattern or Texture
If you want to mix things up a little, add a pattern or texture to your visual identity. You can use these things on your website site or for social media posting.
Private Notes
[progressally_note note_id="1″ allow_attachment="yes"]