To do
[progressally_objectives]
[progressally_progress_bar]
I want nothing more in this life than to see you succeed (please keep me updated on your biz every now and then—I'd love to hear all about your triumphs). Seriously, hearing your success stories literally lifts me off the ground. But to achieve great success, you will need to have goals. Think about it—do you know anyone super-duper successful who never had a goal to get there? I can't think of one. So, starting today, let's create some amazing goals for you to achieve.
The Process
Dream
All great goals were once just dreams. Have you dreamt lately? It's kinda fun. Ponder what your business looks like next year, in three years, in five years. Find a nice place to relax and give yourself twenty minutes to dream—just dream. No detail is too great.
Write It Down
Next, decide what dreams you want to make a reality and write them down. Create a list and prioritize the ones that are most important to you.
Make a Plan
How are you going to make these dreams come true? What's your plan of action? Think about the steps you'll need to take to achieve your goals.
Reflect
Be sure to look back monthly, quarterly, yearly to see if you're hitting the mark. Remember that rejection is okay. It's just another opportunity to get it right. Don't give up on your dreams; just find another way.
Let's Get S.M.A.R.T
The SMART method has been in existence forever, but it works. Make sure you have SMART goals. Do the goals you created have specifications to them? If not, it's time to readjust them.
Specific
Having specific goals will keep you focused. For example, don't just say, "I'm going to get a website." A specific goal is "I'm going to have a website up and running in one month."
Measurable
Your goals must be measurable—i.e., how are you going to achieve them? What's the plan?
Achievable
Are your goals realistic? Be honest. Do a little research. I often ask new planners how many brides they want to book in their first year. They typically respond with 30–45. This is not realistic, especially in the first year. I would say booking 10 brides in the first year may be possible if you're super motivated. Be sure to have achievable goals.
Relevant
Are you the right person to reach this goal? Is it meaningful to you? I hope you can answer "yes" to these questions. If your goal isn't relevant to you, then you won't achieve it well.
Time Bound
Having a deadline to complete your goals makes the difference between a dream and a goal. Make sure your goals have time limits.
Create SMART Goals
Use our SMART method worksheet to help you create goals you can actually achieve.
Lead-Specific Goals
As much as I want you to achieve those big goals, I need you to understand that a lot of your success will piggy-back off of wedding vendors—at least until your business is established. Or you can pay thousands of dollars to advertise. That's why it's important to create goals around getting to know vendors. In simple terms, this is what it looks like: vendor referrals = more leads = more clients = more money. Let's create an action plan to complete this equation.
Action Plan to Get More Leads
It is time to start thinking about your goals. How exciting!! You have been drawn to wedding planning like so many other people; however, what will make you more successful than someone else is that you'll have an action plan to get there. Complete the Action Plan to Getting More Leads worksheet. Who do you want to know in the wedding industry? What networking events are in your area? You cannot expect to get leads if you're not networking with vendors.
Monthly Action Plan
Now it's time to create a monthly action plan. Every month you'll be making a plan to network and seek out vendors and venues. It is a difficult task if you're an introvert, but it's necessary if you want to be successful at wedding planning. Clients don't just knock on your door and say, "I want to hire you"; you have to actively search for them. Once you have created your plan, print it out and keep track of who you've been networking with. Give yourself a gold star when you've completed your goals for the month.
Business goals, you gotta make them and revisit them often—at least quarterly and yearly. If you don't know why you've started a wedding planning business, you're not going to be very successful at it. And it needs to go a little deeper than "it's my passion." Passion is not a guarantee for success. If you have started a wedding planning business without a clear goal in mind, you have done yourself a serious disservice. Without a vision, you will find yourself wandering aimlessly around in a sea of wedding professionals, while you witness them rise despite a saturated market. You'll be left with feelings of bitterness and resentment, wondering why you ever decided to join this unpredictable career. Truth is, though, it's not unpredictable at all; it just involves a lot of work and a lot of vision. Every move you make in your business should be countered with this thought: "Is this action serving my vision?" This will help you avoid bad and time-sucking decisions.
Keywords
Make it a goal to write down 20 keywords you want to use in your marketing this year. These words will help you stay focused on your wedding business objectives. You'll use these keywords when you blog, in your social media profiles, posts, and in the content you create.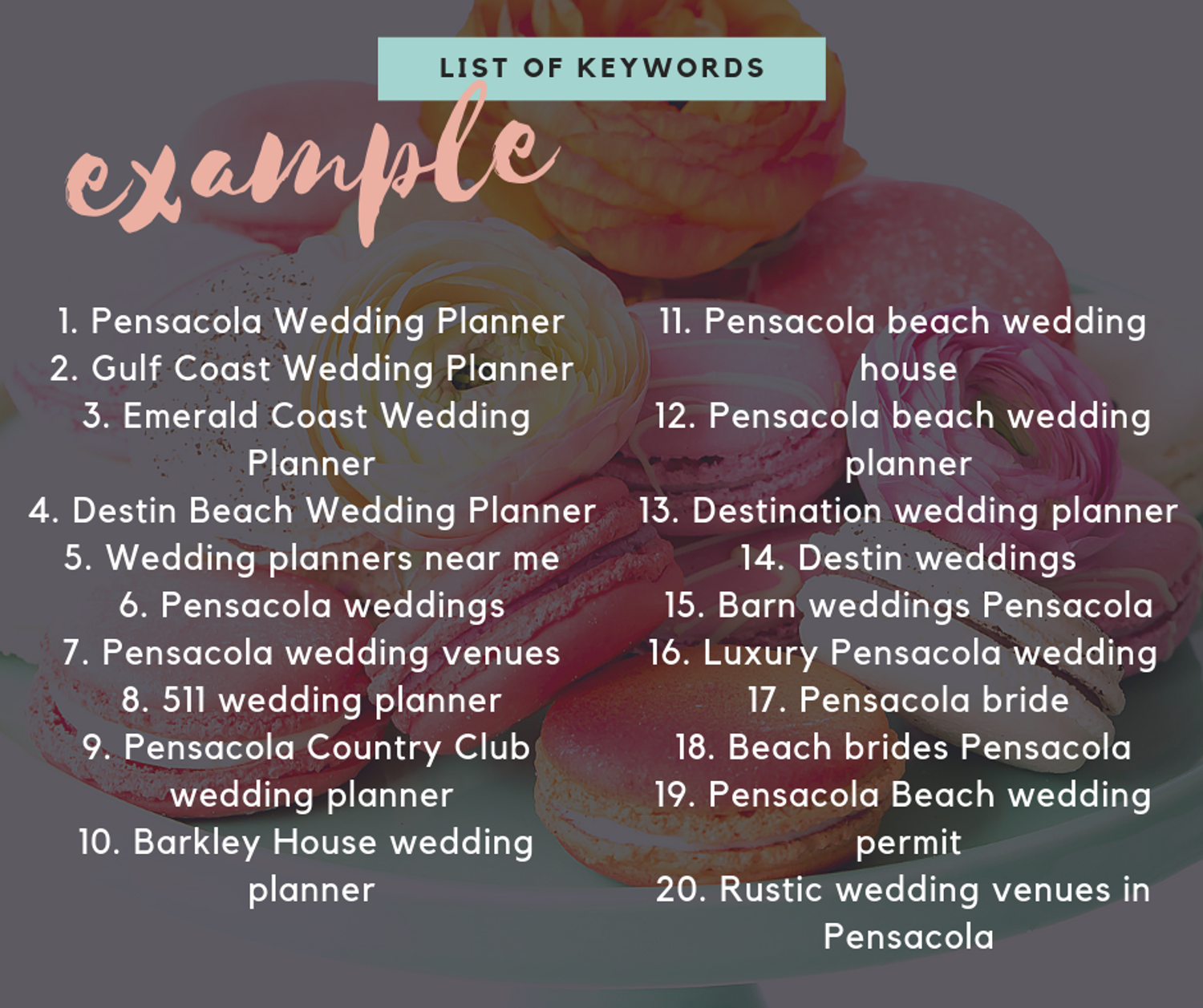 For Indian weddings, Jewish weddings, and other religious/cultural weddings, these weddings may be very different from the basics we talk about throughout this course. Be sure to ask your wedding planner if you're assisting with a cultural wedding. If so, ask for specific logistics and details about the wedding. Cultural weddings are a great learning experience and something that can be niche. If you get an opportunity to assist with one, take the time to learn as much as possible by researching all the details before the event
We all had to start somewhere, right? Today, I'm breaking down the must-know terms so you can get through your first few weddings with confidence. Take a moment and study these new terms, knowing that mastering wedding terminology takes time. Don't be afraid to ask a vendor friend to explain a term in more detail if needed.
A-E
All-inclusive. This is a flat fee that includes a range of services. You see this most often provided by destination wedding resorts.
F-J
Final Guarantee/Final Count. This is the final head count given to the caterer. The couple will pay for this number and is usually needed roughly two weeks in advance.
First Look. The first look takes place before the ceremony where the bride and groom are staged to see each other for the first time.
Fondant. A pliable, decorative cake covering used to decorate or sculpt wedding cakes.
GOBO. A laser-cut piece of acrylic or metal that is placed inside or in front of a light source to control the shape of the emitted light. You will often see this at the reception on the dance floor or walls.
Grand Entrance. The moment when the members of the bridal party are announced to the wedding guests as they enter the reception.
Hard Stop. This is when the wedding reception comes to an end and the DJ stops playing music. You usually have about an hour left for cleanup.
In-house. Some venues offer more than just their venue space. Additional services may include furniture rentals, catering, and coordination. Due to liability reasons, bar service might also be in-house.
In-house Catering. This is when catering services are supplied by the wedding venue. Usually, off-site caterers are not permitted when this is the case. You will see this at hotel weddings.
K-P
Personal Flowers. This refers to the bouquets, corsages, and boutonnieres of the bridal party.
Processional. The choreographed entrance of the bridal party into the ceremony.
Q-Z
Rain Plan. Also known as "Plan B," a rain plan is created in case bad weather is threatening an outdoor ceremony and/or reception.
Recessional. The choreographed exit of the bridal party from the ceremony space.
Room Flip. At weddings where the reception is being held in the same space as the ceremony, the guests will often be ushered into a different space for a cocktail hour while vendors transform the ceremony space into the reception.
Send-off. The gathering of the wedding guests to say goodbye to the newlyweds as they leave the wedding reception. This could include sparklers, bubbles, petals, etc.
Stationery Suite. A matching set of wedding stationery that typically includes save-the-dates, wedding invitations, reply cards, etc.
Tablescape. The stylish arrangement of items (ex: place settings, centerpieces, candles) on a table.
Tasting. A service provided by some caterers for the bride and groom to sample different dishes in order to decide which ones they would like to be served at their wedding.
Uplighting. Using upward light to transform the reception space to take on a different ambiance for the night.
Vendor Meal. This is a meal provided by the hotel or catering company, which is typically paid for by the couple for a reduced rate. This is usually a cold deli sandwich and a bag of chips.
Venue Walkthrough. A service where the bride and groom can tour a venue to get a better understanding of what can be done with the space for their future ceremony and/or reception.
Watermark. Some wedding photographers will "watermark" their images, meaning their logo is included somewhere on the images.