To do
[progressally_objectives]
[progressally_progress_bar]
A keyword, or a focus keyword as some call it, is a word or phrase that describes the content on your page or post best. Google looks for keywords when ranking a page for its content. Using a less competitive keyword can give your article a page-ranking advantage. Keywords are going to bring you and your target audience together. It's important to note that an article you write today could take up to 3-6 months for it to rank on Google. It's what we call the long game.
Types of Keywords
There are two types of keywords you must be familiar with: Head Keywords and Long-Tail Keywords.
Head Keywords
Head keywords are highly competitive and almost impossible to rank for in search engines.
Example: Wedding Planner
Long-Tail Keywords
Long-tail keywords are specific, well-defined, and they usually contain a minimum of three words.
Example: Jacksonville, FL Wedding Planner
Where to Insert Keywords
Where you plug in your keyword is just as important as deciding on a keyword. These are the places you will want to insert your keyword:
Blog Post Title
URL
H2 Subheading
Blog Post Text – ideally 3 times, depending on the post length
When it comes to finding Keywords, I use KWFinder. However, this a paid program and one that is pretty pricey for someone just getting started with blogging. There are big advantages to a paid keyword finder, but I suggest trying out a free tool first. For one of these paid operating systems to "pay off," you really need to be blogging at least once a week. When you find you're blogging consistently for six months with marginal results, it's time to start looking into a paid version. In the video below, I show you how to use a free keyword tool called Keywordtool.
When it comes to finding a keyword to use in your blog post, you'll find yourself investing in a lot of time-consuming research. Of course, you could skip this vital step, but if you're going to be writing a post blog, you might as well make it count in the SEO world. The keyword you choose will make a difference in where your post ranks on Google. So, once you have a topic in mind and the points you want to talk about, use the internet and see what your keyword options are.
Google Search
I like to do a quick little Google search once I've come up with a topic I know my ideal audience wants to read about. This helps me figure out what other people have said about it. I don't want to copy them. I want to have my own original take on the subject matter. I also look to see what people are asking about my topic. These questions make great subheadings.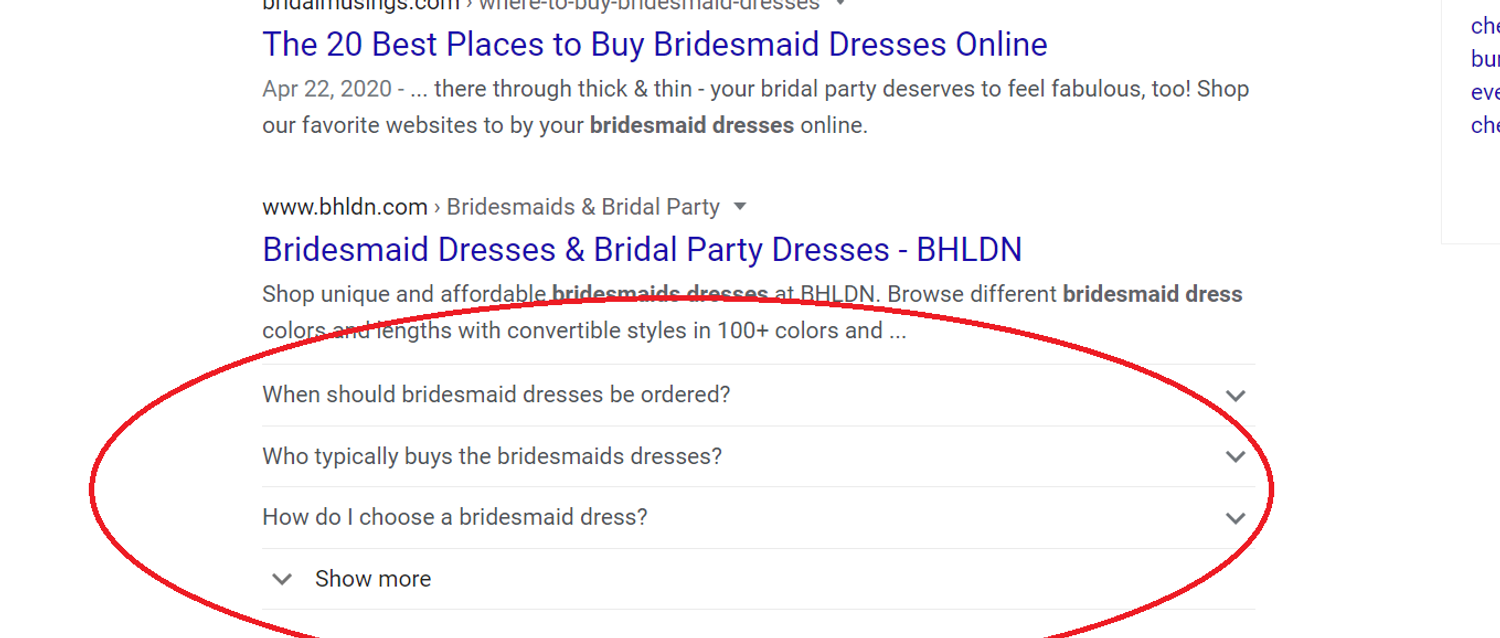 Keyword Tool
I will then use Keyword Tool for a more specific keyword option. Because I only care about getting picked up in the Jacksonville, FL area on Google, I get area specific with it.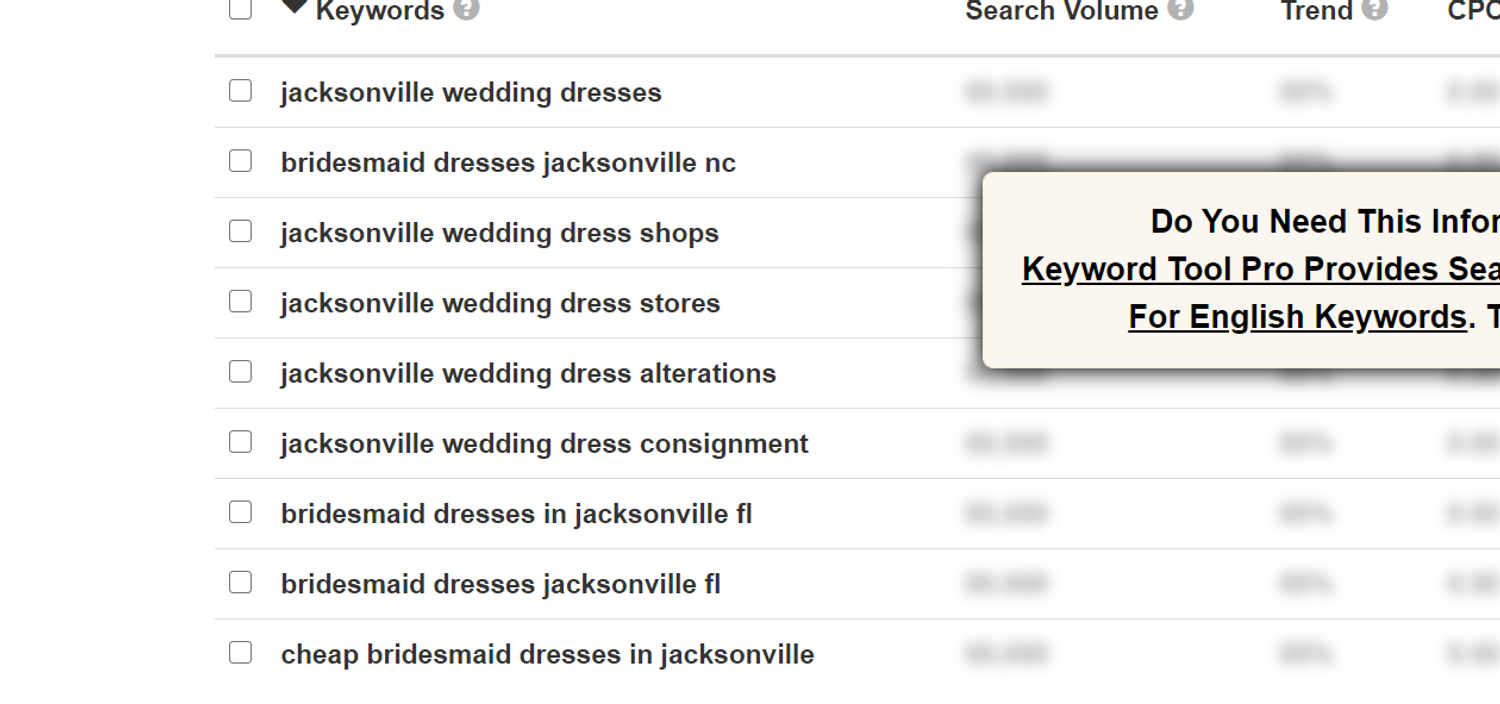 Pinterest
Pinterest is a visual search engine and can give you even more ideas as to what keywords to use. Just start typing in the search bar under "All Pins" and see what pulls up.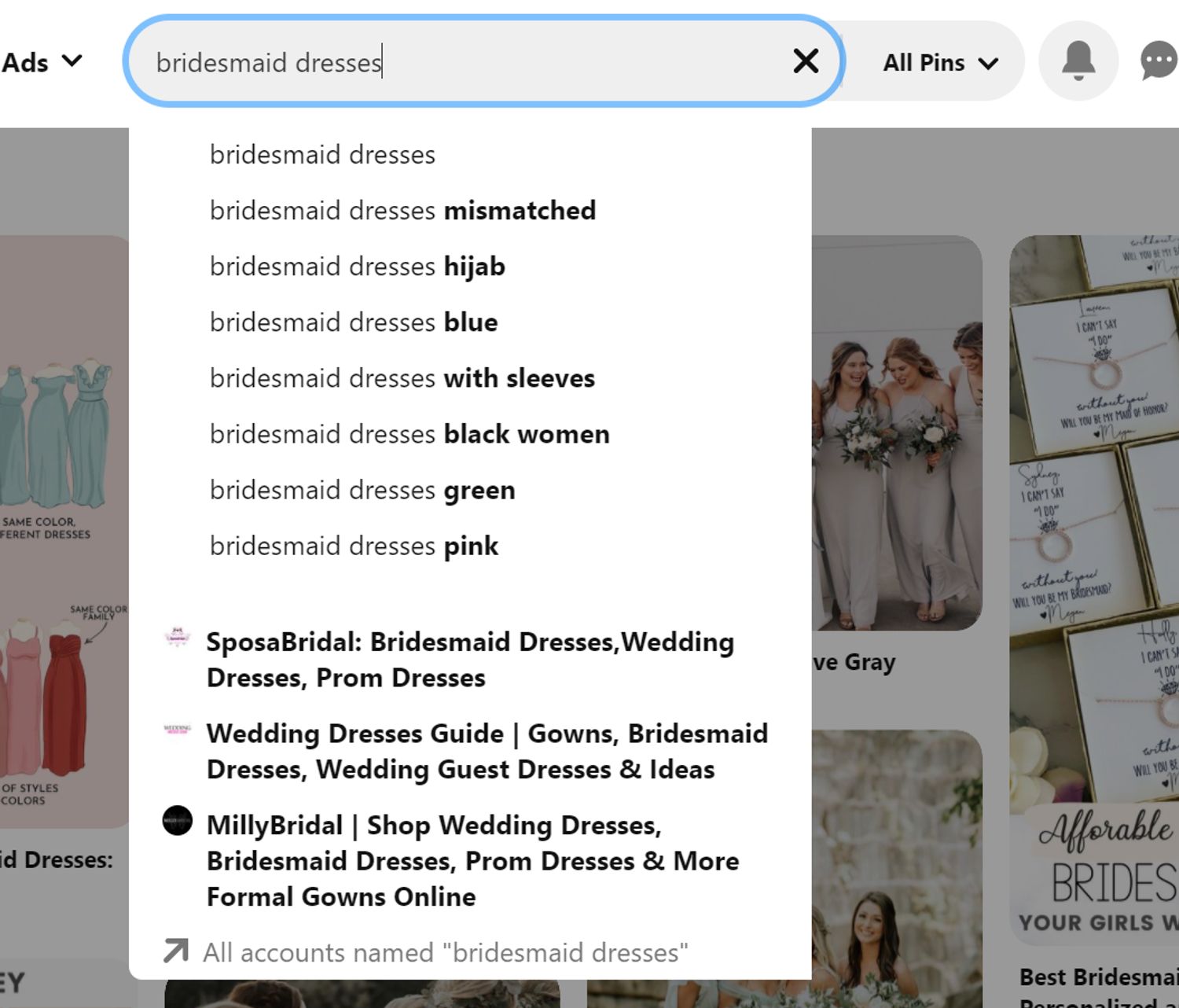 Answer The Public
Lastly, use Answer the Public. With this tool, you only get 3 searches a day. So have a plan before using it. It will break down questions, comparisons, and prepositions for you. This is a really great tool!

It's in your best interest to create a list of specific keywords related to the area where you live. Why? Because you want to write for potential clients who live nearby. When you write a blog post you don't want it to just randomly live on the internet. Instead, you want to capture people who are looking for a wedding planner service in your area. If you don't use any area-specific keywords in your post, then you'll be attracting anyone and everyone regardless of where they live.
To create area-specific keywords, you want to search Google. I recommend starting with "X wedding planner" and see what comes up.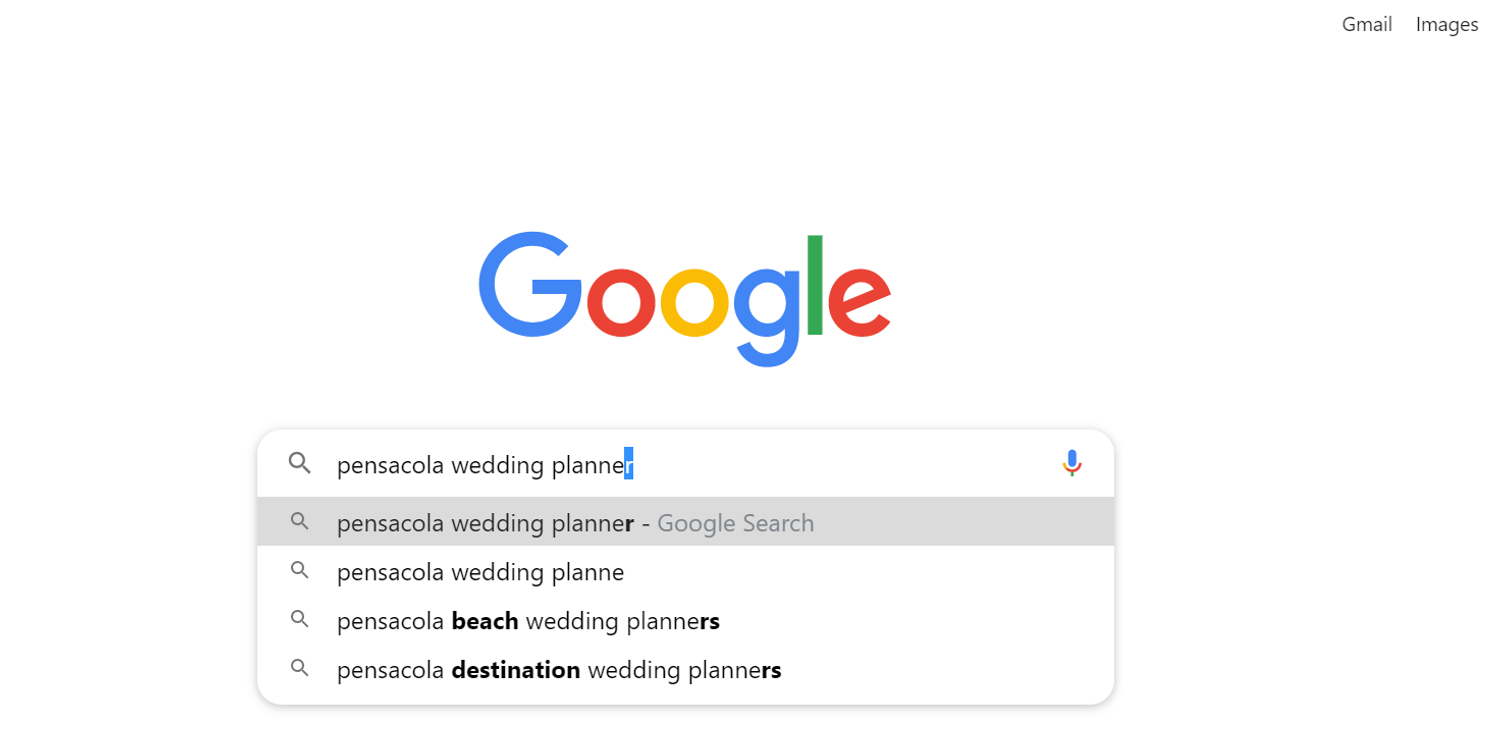 Next, you'll want to explore the results a little. From this I would use "Event planning Pensacola," "30a wedding planners," and "wedding planners in Pensacola."

Then you should start thinking about local wedding venues, other names for your local area, and specific landmarks.

See what this search offers. From these results, I would use Palafox Wharf wedding planner, Palafox house wedding planner, wedding venues near me, and even 5eleven Palafox pricing.

Make it a goal to write down 20 keywords you want to use in your marketing this year. These words will help you stay focused on your wedding business objectives. You'll use these keywords when you blog, in your social media profiles, posts, and in the content you create. When you blog those, if you're not making them a focus word, only use 1 or 2 in your blog post. You don't want to come off as scammy. My list appears below: